1922-2022: ONE HUNDRED YEARS AFTER MICHAEL VENTRIS'S BIRTH: A LETTER FROM SINCLAIR HOOD TO TREVOR BRYCE ON THE DECIPHERMENT OF LINEAR B
Anna Lucia D'Agata, Trevor Bryce, Thomas G. Palaima, Ewen Bowie
From the Preface: "There was no hesitation in accepting for publication in SMEA NS 2022 Sinclair Hood's letter of 30th May 2012 mentioned in the title, that Trevor Bryce kindly offered me in September 2021. Since 2022 was the centenary of Michael Ventris' birth, focusing on the 'resistance' to his decipherment of Linear B as Greek – taking the lead from Hood's letter – seemed to be an appropriate way for our journal to celebrate his epochal achievement".
Anna Lucia D'Agata,  Preface
Trevor Bryce,  An Introduction
Thomas G. Palaima, The Letter from Sinclair Hood to Trevor Bryce of 30th May 2012 and Skepticism about the Validity of the Ventris Decipherment of Linear B First Announced 18th June 1952
Ewen Bowie, Was there a Rejection of Ventris' Decipherment in 1950s and 1960s Oxford?
Ewen Bowie
was Professor of Classical Languages and Literature in the University of Oxford, and is now an Emeritus Fellow of Corpus Christi College.
Trevor Bryce is Honorary Professor in Classics and Ancient History at the University of Queensland (Australia).
Anna Lucia D'Agata is Research Director at the Institute of Heritage Science, National Research Council of Italy (CNR).
Thomas G. Palaima is Robert M. Armstrong Centennial Professor and Director, Program in Aegean Scripts and Prehistory (PASP) at the University of Texas at Austin.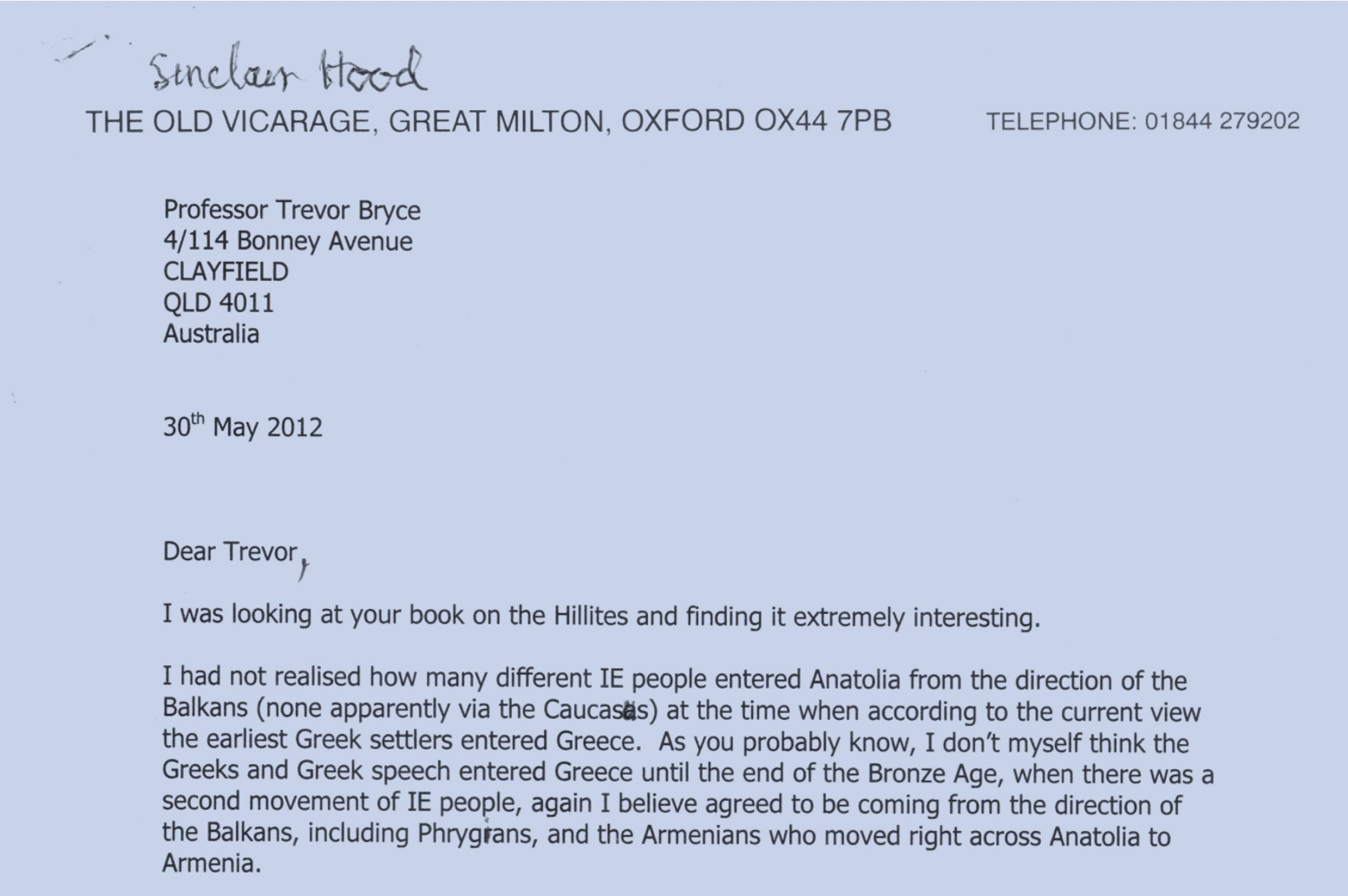 Full Bibliographic Reference
1922-2022: ONE HUNDRED YEARS AFTER MICHAEL VENTRIS'S BIRTH: A LETTER FROM SINCLAIR HOOD TO TREVOR BRYCE ON THE DECIPHERMENT OF LINEAR B, SMEA NS 8, 2022, 105-140
Anna Lucia D'Agata, Preface, 105-106; Trevor Bryce, An Introduction, 107-110; Thomas G. Palaima, The Letter from Sinclair Hood to Trevor Bryce of 30th May 2012 and Skepticism about the Validity of the Ventris Decipherment of Linear B First Announced 18th June 1952, 111-138; Ewen Bowie, Was there a Rejection of Ventris' Decipherment in 1950s and 1960s Oxford?, 139-140
#mk-accordion-65140dc9202ce .mk-accordion-pane{ background-color: #fff; }
KEYWORDS
Linear B; Michael Ventris; Sinclair Hood; resistance to decipherment